CURRENT ANNOUNCEMENTS
LAST MEETING – Tuesday, January 15, 2019 – There were 41 LaVale Lions, 21 guests, spouses and Lionettes, plus 4 visiting Lions; 3 from Williamsport Lions Club and 1 from Zephyrhills, Florida Lions Club (Lion George Schoenadel), present for this meeting.
This was a special road trip dinner meeting, held at the new Allegany High School, 900 Seton DR, Cumberland Maryland. Orchid Owls Catering was up to the task and brought in a great meal. LaVale Lion, Dr. David Cox, Superintendent of the Allegany County Public Schools (ACPS), was our host for the tour of the new building. Mr. Brian White, Historical Research Methods Teacher, and four members of the AHS State Champion Mock Trial Team were our tour guides.
The tour was quite informative, and the building is an edifice that we can all be proud of as it is 'our' high school for the LaVale area of Allegany County. The normal business agenda was suspended so there are no Tip Board, 50/50 Drawing or Honest Drawing results.
NEXT MEETING – Tuesday, February 5, 2019, 6:30 pm – LaVale Vol. Fire Dept. No 1 – 421 National highway, LaVale – Regular Dinner Meeting. The guest speaker will be Past District Governor Paul Cannada, Thurmont Lions Club. PDG Paul will be speaking in his capacity as the District 22-W LCIF Coordinator (Lions Clubs International Foundation, Inc.), Lions Clubs International's fund-raising and grant-making 501 (c) 3 charitable foundation. LCIF, celebrating 50 years of service, is in the first full year of Campaign 100, the current capital fund raising campaign.
FOLLOWING MEETING – Tuesday, February 19, 2019 6:30 pm – LaVale Vol. Fire Dept. No. 1 – For this meeting we will continue our probe into the local opioid crisis. Our scheduled speaker for the February 19 meeting is C. J. Cangianello, a local therapist who is a life and wellness coach. She will bring with her a recovering addict as well as a parent of an addict.
All three of them will give us a perspective of how addictions affect personal and family life. Because of the importance of this presentation, Lions may invite spouses and guests to this dinner meeting. The cost of dinners is $11.00. Please see your Vice President at the next meeting to make reservations for guests. Each Vice President will contact their list and all reservations are due to Lion Charles Croft by Tuesday, February 12.
LIONS NEWS –
Chicken BBQ dates for 2019 are May 3, 4, 5; September 6, 7, 8; and October 18, 19, 20, 2019. Place those dates on your calendar now so you don't forget.
Convalescent Equipment Committee – Lion Stephen Finger – For this report, 7 Lions volunteered 54 hours assisting 90 residents with convalescent equipment needs.
Constitution and By-Laws Committee – Lion Mike Wallinger, C & BL Committee chairperson - The C & BL Committee is finishing up the C &BL updates that will be presented to the Board of Directors at their February 26th meeting. Subsequent to board approval, the club will vote on the update. These documents were last updated in 1993.
Budget & Finance Committee – Lion Stephen Finger - The Budget & Finance Committee will meet at 7:00 pm on Thursday, January 31,2019, in the second-floor meeting room of the LaVale Rescue Squad to do a mid-year review on income and expenses and consider a request for funds from The Allegany Museum for their capital fund campaign.
Foundation News – Lion Jerry Chambers provided updates on projects: cost estimate for the exit/entrance gate off Locust Street is $2,500. The contractor was notified to repair the wind damage to the convalescent equipment building. The contractor was notified about conducting the maintenance to the smoke exhaust fans in the BBQ pit area and to remove the center pit flue stack extension. Also, a wind baffle system is being contemplated.
Membership Committee – Lion James Castle – A new member application for Austin P. Murray, sponsored by Lion Mark Kyle, was submitted and approved by the board. Induction will be at the February 5th meeting. Lion Bob Harbaugh submitted a letter of resignation that was approved as a resignation in good standing by the board.
Nomination Committee – Lion Michael Wallinger – The Nomination Committee reports that a slate of officers and directors for 2019 - 2020 for the lion's club and the lion's club's foundation has been filled out. Barring any changes or additions, the slate will be reported out at the first and second meetings in March. The Election Meeting will be the first meeting in April.
Pre-School Vision Screening - Lion Gary Llewellyn – For this month, there were 184 students screened of which 144 passed and 40 were referred. The higher number of referrals is partially due to the new screening protocols with the health department and school system that includes some testing of 1, 3, and 5th grade students. Vision screening hours for December and January is 43 hours.
Six PSVS Lions have signed up to conduct vision screenings at the School Readiness Fair, scheduled for Saturday, March 2, 2019, from 10:00 am – 2:00 pm at the Country Club Mall.
Sight Conservation – Lion Elwood Glass – For this month there were vision exams, frames and lenses provided to 8 residents. This makes a total of 37 for the 2018-2019 Lions Year. The eyeglass collection boxes were serviced. A new Eyeglass Recycling Box was added at the LaVale United Methodist Church. A total of 1,162 used eyeglasses were transferred to 22-W Eyeglass Recycling Coordinator Lion Bob Martin. Five Lions volunteered 26 hours this month.
On January 15, 2019, Lion Elwood Glass and Lion Bob Martin (Myersville Lions Club) were the guest speakers for a 30-minute Facebook episode from Hope Rising – Cumberland, hosted by hospital volunteer and hostess of Hope Rising, Donna Stivala. The Lions talked at length about the 22-W Eyeglass recycling effort with the Global ReVision Network in Central America. The video is available at the Hope Rising Facebook page, the LaVale Lions Club Facebook page or on YouTube. Lion Elwood has a DVD of the program.
Testimonial: Lion John Fetchero contacted Lion President Gary and Sight Conservation Chairman Lion Elwood about someone he encountered who needed help with eyeglasses. The story ends with the person receiving what he needed. It's the best way to show our Lions Hearts of Service. Read it below:
Lion John Fetchero:I encountered a young man who needs eye care attention. He lives in LaVale. He currently works part-time and does not have medical or eye care benefits. He describes that he was born with cataracts in both eyes and his been living with it ever since. I hope we could help him with a visit for an eye exam and take it from there. He really seems like a nice young man I'd hate to see something like a treatable vision condition hold him back in life.
Lion Elwood: I just talked with the young man and he related to me that he had cataract surgery on both eyes in 2011 and did have glasses however they became broken and he has been unable to afford to have
them replaced. He has been approved for assistance from the LaVale Lions Club and I have made arrangements for him for an examination, frames and lenses...He was most appreciative.
Peace Poster Contest - Lion Stephen Finger - Bishop Walsh seventh-graders Lacy Rivers, second from left, and Autumn Hoppert display their winning entries in the LaVale Lions Club annual Peace Poster Contest with art teacher Kelsey Kiddy and Principal Ray Kiddy. Lacy took first place and Autumn was second. Both girls were awarded a certificate and VISA gift cards.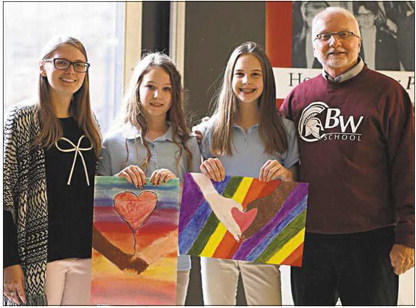 FEBRUARY LIONS BIRTHDAYS –
John Lewis Dave Cox Robby May
Mark Kyle Randy Schry Thomas B. Wiles
Brian M. Lang
FEBRUARY LIONS CLUB ANNIVERSARIES –
William R. "Randy" Schry 1966
Robert E. "Bob" May 1970
Billie J. Redmond 1971
George B. Gilmore 1992
Gary R. Llewellyn 2007
David A. "Dave" Cox 2008
Robert K. "Robby" May 2008
G. Edgar "Ed" Dawson 2009
Jerry L. Noel 2015
FEBRUARY LIONETTE BIRTHDAYS – none
LIONETTES NEWS - The next Lionettes meeting is 6:30 pm, Tuesday, February 12, 2019, at the Park Place United Methodist Church. The guest speaker is Mrs. Judy Hamilton, Director of DSS. Mrs. Hamilton is rescheduled from last month.
CARE AND CONCERN – Please remember Lion John Engel and Lion Rick Stewart, their families and these Lions and their families in your thoughts and prayers this week: Lee and Nancy Capper and family, Marty and Janis Tichnell and family, Frank and Carol Ways and family, Sam and Judy Reckley and family, Ed and Holly Schewe and family, Stanley and Shirley Perdew, George Schoenadel, and Ron Clites.
DATES TO REMEMBER –
February 5, 2019 – Tuesday, 6:30 pm - LaVale Vol. Fire Dept. No. 1 Hall, Regular Dinner Meeting
February 19, 2019 – Tuesday, 6:30 pm - LaVale Vol. Fire Dept. No. 1 Hall, Regular Dinner Meeting
February 26, 2019 – Tuesday, 7:00 pm - LaVale Rescue Squad, Board of Directors Meeting
March 5, 2019 – Tuesday, 6:30 pm - LaVale Vol. Fire Dept. No. 1 Hall, Regular Dinner Meeting
March 19, 2019 – Tuesday, 6:30 pm - LaVale Vol. Fire Dept. No. 1 Hall, Regular Dinner Meeting
March 26, 2019 - Tuesday, 7:00 pm – LaVale Rescue Squad, Board of Directors Meeting
April 2, 2019 - Tuesday, 6:30 pm - LaVale Vol. Fire Dept. No. 1 Hall, Regular Dinner Meeting
April 16, 2019 - Tuesday, 6:30 pm - LaVale Vol. Fire Dept. No. 1 Hall, Regular Dinner Meeting
April 23, 2019 - Tuesday, 7:00 pm – LaVale Rescue Squad, Board of Directors Meeting
WORDS OF WISDOM, QUIPS & QUOTES –
Allegany High School –
Ground breaking May 23, 2016
Dedication Ceremony August 20, 2018
Total Cost: $57,134,581
Square Footage: 143,374
Capacity: 857
Replaced the AHS building in Cumberland, constructed in 1925 and opened September 7, 1926.
"Allegany High School is a public high school in Cumberland, Allegany County, Maryland, United States. Allegany High School was built as Allegany County High School in 1887, hence it is often referred to as 'Alco'." Wikipedia
Life's most persistent and urgent question is, 'What are you doing for others?' Martin Luther King, Jr.

The time is always right to do what is right. Martin Luther King, Jr.
Darkness cannot drive out darkness; only light can do that. Hate cannot drive out hate; only love can do that. Martin Luther King, Jr.

NEXT NEWSLETTER – Next publish date February 19, 2019. Articles are due to the editor by 8:00 pm on Tuesday, February 12, 2019. Stephen Finger, Newsletter Editor 301.697.0424 sfinger@atlanticbb.net